WATER JET CAPABILITIES
Design Metal offers 5th Axis Water Jet Cutting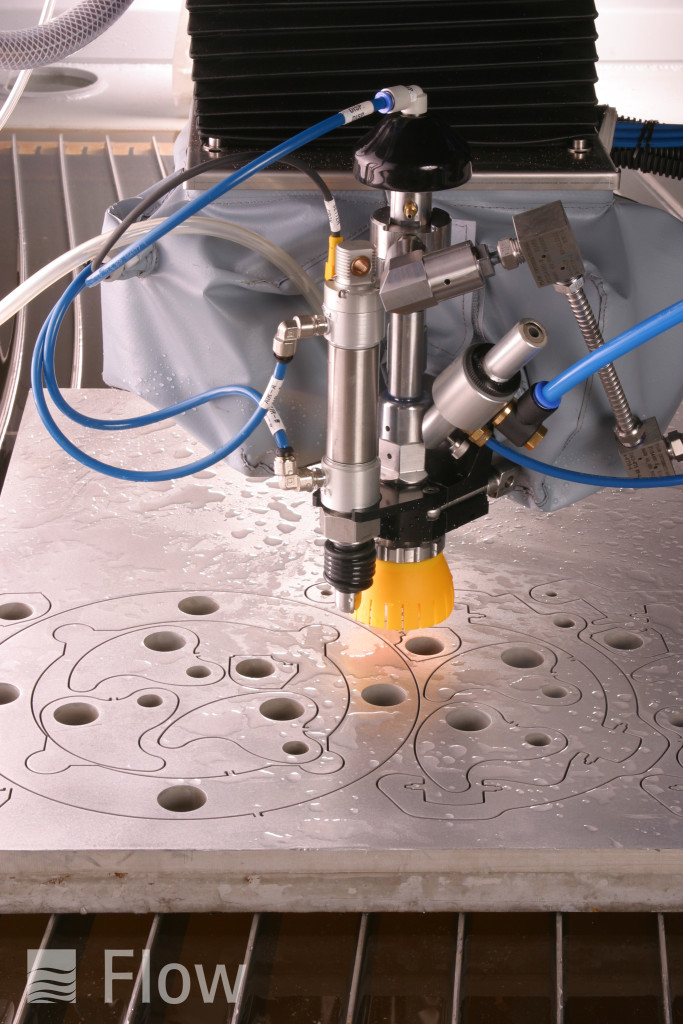 We have had great interest with our newly purchased Water Jet machine. Just a few of its features include: We recently purchased a new water jet and have had great interest.
XY-Axis travel 13'-1" x 6'-6" (4m x 2m)

Linear accuracy +- .0015 in/3ft

Repeatability +- .002 in

Dynamic XD allows for up to 60 deg. of articulation for bevel and 3D part production

Water Jet cutting is an environmentally-friendly technology
What is Waterjet Cutting?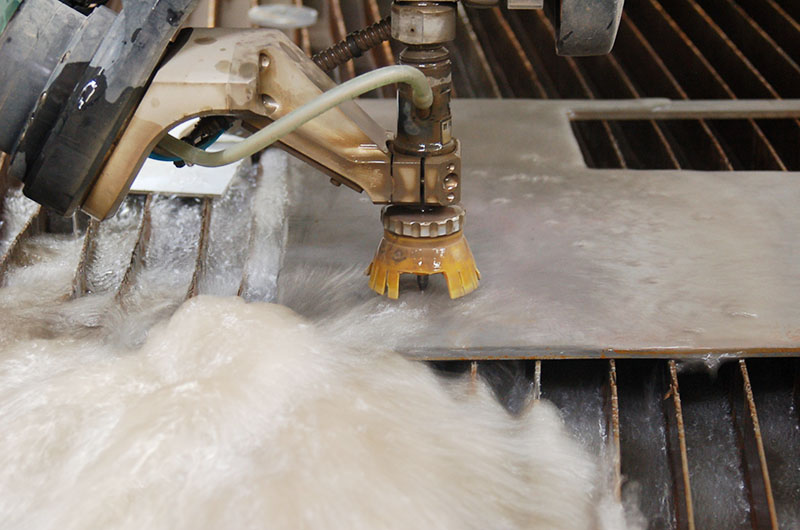 Waterjet cutting is a process where a jet stream of water is forced through a tiny nozzle at a very high pressure which provides many unique capabilities and advantages.  Cutting of materials and parts can often be considered too costly or even impossible in many instances with other methods.  However, our abrasive Waterjet cutter is able to cut through the hardest of materials including stone and metals, leaving smooth, extremely accurate edges.
Advantages of Waterjet Cutting
Precise Cutting with high degree of repeatability

Fast, economical machining of virtually all metallic and non-metallic materials

Near limitless possibilities for cutting complex shapes and dimensions

Precision cutting, beveling, piercing, etching, and slotting – up to accuracies of ±.005

Identical parts produced and changes made quickly and easily through the use of CAD/CAM technology

Material integrity is maintained

Elimination of material distortion or degradation such as burning, crushing, chipping, and fracturing 

Reduced labor and costs with minimal fixture and tooling setup

Maximum material utilization

Minimal waste achieved (by using narrow kerfs along with computerized part nesting)

Reduced tooling expenses

Smooth and finished part edges – reducing the need for tooling & post-machine work
Suited to a Wide Range of Materials
Acrylic, Plastics, Rubber, Silicone

Alloys, Aluminum, Brass, Copper, Inconel, Stainless Steel, Steel, Titanium

Cardboard, Paper, Wood

Ceramic, Corian, Formica

Granite, Marble, Porcelain, Quartz, Slate, Stone, Tile

Composites, Kevlar, Laminates

Carpet, Cloth, Felt

Foam, Fiberglass Insulation

Leather

Glass, Plexiglass, Mirror, Stained Glass

Pipe Vinyl (VCT)

More!
Suited to a Variety of Applications
Custom

Case Foam Inserts

Lettering & Design

Instrument Faceplates

Gaskets, Gears, Grommets, Seals

Hole Piercing, large and small

Floor Inlays, Medallions, Tile Cutting

Metal Cutting, Blanking

Signs, Logos, Plaques

Rubber Bumpers

More!
Visit our Video Gallery to view a video of our Waterjet machine in action.
Contact us

with any design ideas or questions you might have about this unique process.